Taj Mahal Tour by Gatimaan Express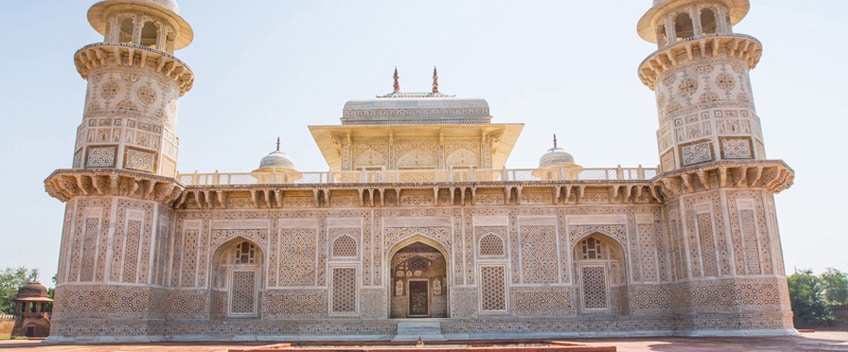 Itinerary of Taj Mahal Tour by Gatimaan Express
06:30 AM -
Pick up from the hotel and continue to the railroad station
Morning, meet our staff at your suggested place (hotel /airplane terminal) and move to the train station in Delhi to board the train that will take you to Agra station.
08:10 AM -
The train starts from Delhi
The Taj Mahal Tour by Gatimaan Express Train will start from the Hazrat Nizamuddin train station, Delhi, and reach Agra at 09:50 am. This is a superfast train and takes a few hours to reach the Agra city. Breakfast will be served on the train.
09:50 AM -
Reach at Agra Cantt. Train station
On your arrival in Agra, the visitor's guide will meet you and take you to the Taj Mahal a beautiful mausoleum and different locales of Agra.
10:00 AM -
Visit Taj Mahal
Taj Mahal – one of the loveliest landmarks (fascination) in India and one of the seven miracles of the world, Taj Mahal took 22 years (1632 – 1653) to build and created by 20,000 workers. It was established by Shah-Jahan in the memory of her beloved spouse Mumtaz Mahal. Being an incredible white mausoleum, it is surrounded with eye-soothing greenery that makes your visit worth.   
After visiting Taj Mahal now it's an incredible chance to make the most of your lunch in Agra's popular and nearby eatery and post lunch visit Agra Fort.
After enjoying your lunch, continue to visit Agra Fort which is generally called the red fort Agra and appreciate the eminent excellence of the red stone Agra Fort. It was built by the great Mughal Emperor Akbar in 15 A.D. at the banks of Yamuna waterway.
03:30 PM -
itimad-ud-daulah (Baby Taj)
Later visit Itimad-Ud-Daulah which is generally called child Taj Mahal and it is also situated on the banks of Yamuna River. The tomb is beautifully crafted and reminds the era of Mughals to visitors. This tourist attraction keeps a special place in the heart of travelers who come to see Taj. They never forget to see this baby Taj during their trip to Agra.  
04:30 PM -
Visit Mehtab Bagh (dusk purpose of Taj Mahal)
After Agra fortification, visit Mehtab garden from where you can find the dusk beauty of Taj Mahal. The garden consists of numerous colorful flower plants that lift your mood and make you feel good and happy. Spend some time while sitting here and relax. 
05:30 PM -
Move to Agra Cantt. Train station
After experiencing the beauty of Mehtab garden, move to reach Agra Cantt. Train Station, where you will board to return at Delhi Railway Station.
07:30 PM -
Get from the train station and move to hotel /airplane terminal in Delhi
At 07:30 pm the train will arrive at the Delhi train station. Our staff will transfer you to the hotel and airplane terminal. The Same Day Agra Tour does not only give you a chance to experience the beauty of Taj Mahal, but also gives you plenty of memories to share with your loved ones. You can also customize this tour package as per your time and need.